click exhibit title to expand/close details

Presented by Impact Stories, California LGBT Arts Alliance and Temple Isaiah & Jewish Community Center.
A New Visual Exhibit Coming To Temple Isaiah & Jewish Community Center in Palm Springs, CA
June 8th through June 28th, 2017
Opening Reception:
Thursday June 8, 2017 – 7-9 pm
Temple Isaiah & Jewish Community Center
Tuesday through Friday 10am-5pm
332 W Alejo Road, Palm Springs, CA
(760)-325-2281
The Dancers We Lost Exhibit is made possible by funding from the California Arts Council


Websites & Facebook Links:
SAN FRANCISCO EXHIBIT 2016: DANCERS WE LOST
From Friday April 1, 2016 to Sunday August 7, 2016
at the GLBT History Museum, 4127 18th Street
San Francisco, CA 94114
Opening receptions at the Museum in the Castro:
Opening Night Reception: Friday April 1st, 2016 7—9pm [see on Facebook] Friends & Family Reception: Sunday April 3rd, 2016 2—5pm [see on Facebook]
Dancers We Lost (DWL) is producing a new visual exhibit in San Francisco's Castro District. The upcoming exhibit at the GLBT History Museum on 18th Street is curated by Glenne McElhinney and highlights dancers who performed in a myriad of performance disciplines, including, ballet, dance concerts, Broadway and Las Vegas shows, TV variety shows, films, music videos and commercials. Emphasis in this exhibit is given to West Coast dancers.
Several programs relating to the exhibit are planned and will be advertised via the DWL and San Francisco GLBT Historical Society websites and Facebook pages. Programs will include a series exploring the impact of HIV/AIDS and remembering the dancers.
Dancers We Lost exhibit 2016 is presented by the Gay, Lesbian, Bisexual, Transgender Historical Society and Impact Stories, an oral history project run by independent researcher and historian Glenne McElhinney. DWL also includes several project researchers and a dedicated creative team.
Websites & Facebook Links:
(Click an image to view large version)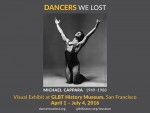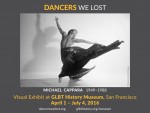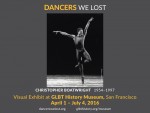 Dancers We Lost Event @ Highways
May 5 – June 19 , 2016
Opening reception Friday May 27 2016, 7 pm
Highways Performance Space
1651 18th St, Santa Monica, CA 90404
Biographies • Database Project • Photographs • Video • Exhibit